OUR PHILOSOPHY, HOW WE CONSIDER OUR DOGS...
We are a hobby kennel, where our dogs are primarily pets, they live at home and share our daily life.
They have various activities (walks, agility, mantrailing, obedience, herding) and live among other animals: cats, horses, goats, sheep.
We want to preserve their  natural skills.
Our dogs are trained with the clicker training method.
ASCA (Australian Shepherd Club of America) and CFBA member.
Our aussies are Xrayed for hips and elbows dysplasia ans their eyes are checked by an ophtalmologist.
We also do DNA tests for MDR1, CEA, PRAprcd, HSF4, degenerative myelopathy (DM), HUU, NCL6, ICM, CMR1.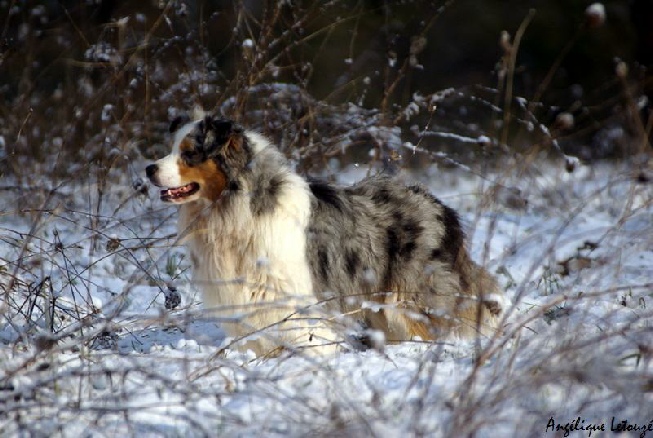 The number of dogs and litters is voluntarily limited.
Puppies are born and live at home, so they are used to the sounds of a house.
We do not offer you a color but a temperament.
Of course, you may have a preference on the color, as well as on its sex. But keep in mind that it is with a living being with a temperament that you will live, not with a pretty color.
Our dogs are, before being «show dogs» or «stud dogs», our daily companions.
They do not live in kennels but share our house.
We keep all our dogs, even retired . They are neutered and live at home.
Females are bred after 3 and last at 7. Under no circumstances they have a litter 6 months after a previous litter. We leave between 18 and 24 months between each litter, possibly 12 months in very rare cases.
Males are bred after 3.